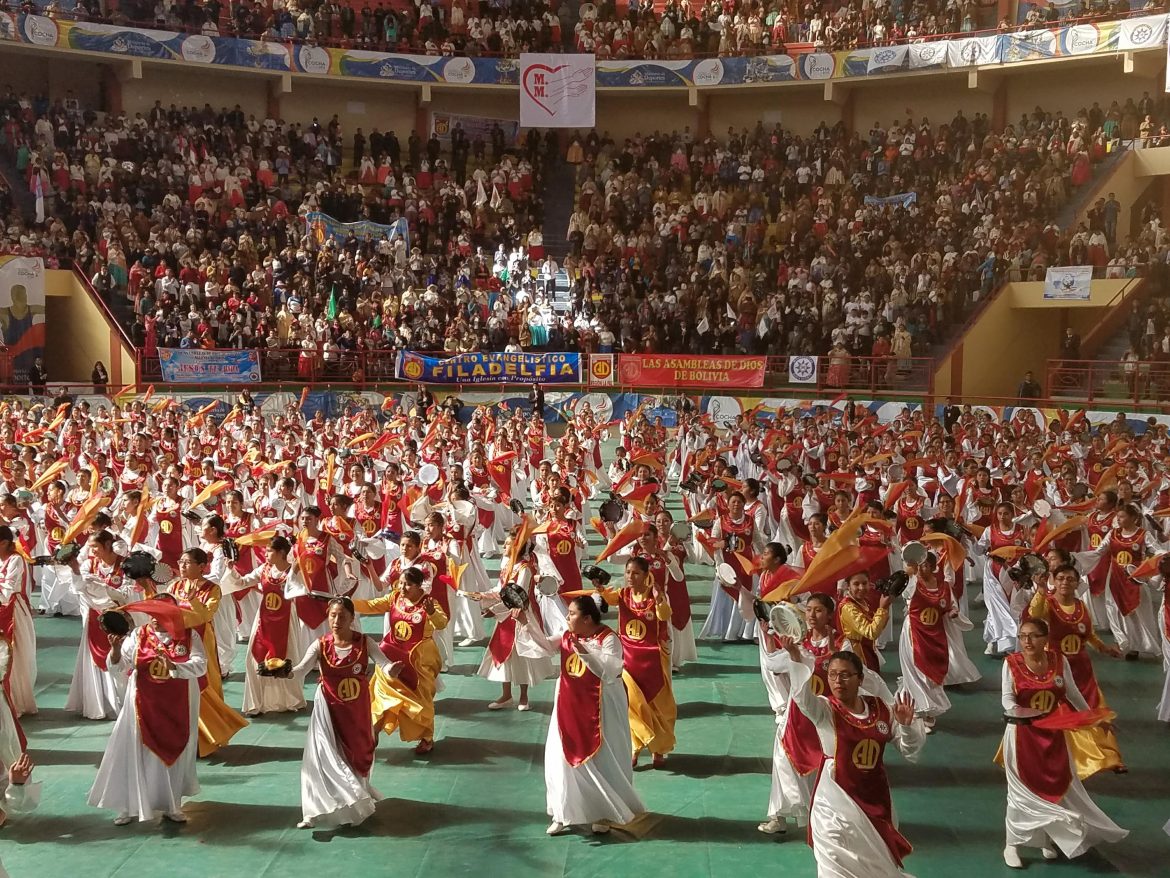 "I will build my Church!"
An unstoppable wave is moving across Latin America. It's a time of historic expansion.
Pentecost Celebration in
La Paz, Bolivia
Thousands came from across Greater La Paz, Bolivia where my wife, MonaRé, grew up as an MK. Pictured here is but a small portion of the many people who have come into the Kingdom. Despite government resistance, the resurgence of ancient religions and scarse resources, the Church Jesus spoke about is reaching a new generation of believers!
Victorious Women's Conference
San Pedro Sula, Honduras
MonaRé was the featured conference speaker sponsored by the CEFADChurch pastored by Argentine missionaries Carlos and Annie Guerra. Women from 17 churches participated in this powerful event. Honduras is in a time of great social and moral upheaval. Many church leaders have embarked on an aggressive campaign to reach at-risk children in one of Central America's most violent countries.
Revival in Argentina — It Keeps on going!
Fountain of Blessing Church in Greater Buenos Aires meets in over a dozen locations and packs out this large auditorium four times each Sunday. The economy is teetering on a disastrous round of inflation, the social fabric is being shaken…but the Church keeps meeting the challenge! Pray with us that Pastor Alberto Rey and his congregation will be able to buy this strategic theatre in the coming year!
We spent the month of August in Argentina and Chile, ministering in churches and participating in conferences involving hundreds of key leaders. It's exciting to see the growth in places like Chile where we lived for ten years and still have many wonderful friends and colleagues.
We awarded Pastor Ezequiel Gerschman his degree at Centro Bíblico Cristiano, Concepción, Chile. After that ceremony, Monita went to speak at the Esmeralda Church with another one of our ministerial students. Both of these churches are in an exciting growth mode.
These young adults were teenagers in our youth ministry when we lived in Santiago, Chile. We had a little reunion with some of these beautiful people last month. Many of those teens in our group have continued to have an important impact in the Kingdom of God as children's workers, church musicians, business owners, and even two couples who have gone as missionaries to Spain and Mid-Asia.
We've been blessed to travel together to so many places. This year we celebrated our anniversary while participating in a tri-annual International Christian Education Conference in Cordoba, Argentina. The Lord has given us health and energy to meet the demands of constant travel and continual change every month.
As you give and pray and partner with us…
we'll keep going!
So far this year we have ministered in Mexico (twice), Bolivia, Cuba (twice), Honduras (twice), Colombia, El Salvador, Panama, Argentina (twice) and Chile.  We have seen the unstoppable wave of God in the lives of thousands across the Spanish-speaking world!
A special prayer request: this week I'm heading to Central Cuba. Please pray the Lord will open doors and facilitate each step of the way. We are believing for answers to prayer and key, Divine appointments.
All year long your prayers, support and special offerings have helped us reach thousands with a Message of Hope.
                                           We love you for it!