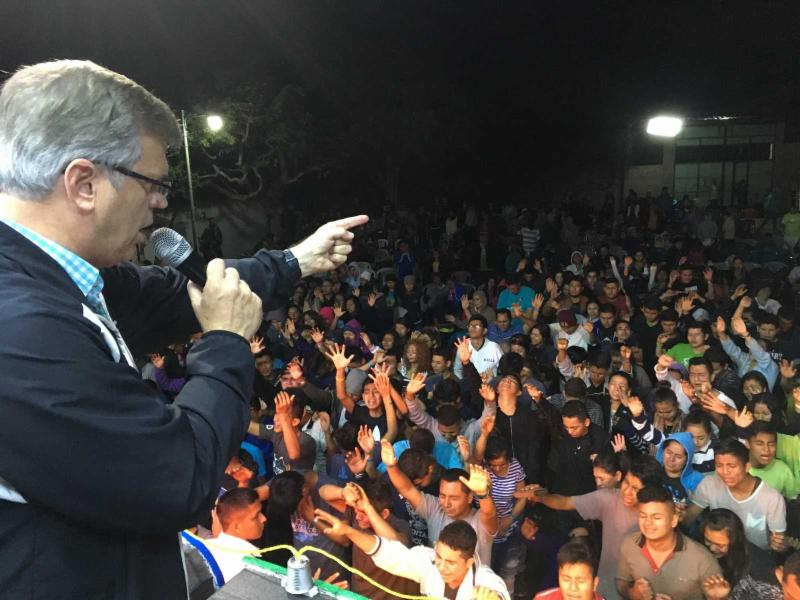 Preaching GOOD NEWS
in a Troubled Country
Last month we were privileged to minister to over 1,200 students and their leaders at the Sonsonate Regional Youth Camp in El Salvador. So many of these young people live every day under the shadow of fear and constant threats of physical harm. These kids are pressing forward for the Cause of Christ.  No weapon will prosper against them!
Prayer Changes Things!
So often we don't even know what to say. That's when we extend our hands with yours to call on God for strength, restoration, and power. Thank you for standing with us as we minister to thousands in many settings across Latin America.
University Student Congress
MonaRe was invited to speak for a great student conference in Sucre, Bolivia. We taught two more weeks in an advanced ministry development seminar in Cochabamba.
Advanced Ministry Seminar
Santiago, Cuba
MonaRe is pictured here with some of the pastor's wives. She brings clothes & special little gifts for these ladies living sacrificially in hard places.
We're proud of our graduates!
This Colombian pastor worked four years and hundreds of classroom hours in our post-graduate Advanced Ministerial Enrichment program. This Quechua couple represents many others from at least twenty distinct ethnic groups whose first language is a native tongue other than Spanish.
 Bogota, Colombia
Our largest graduating class ever!
Over 7,000 pastors, missionaries, evangelist and district and national leaders have attended ISUM in the past 50 years. Columbia is one of our most successful countries for ongoing ministerial preparation beyond the Bible School level. It's great to have Larry and Melody Gruetzmacher on the executive team. They serve as our National Missionary Representatives to Mexico for ISUM International and travel extensively as our Church Planting experts and ISUM Administrators.
 Goin' Green in Cuba!
This is the best transportation available in northeastern Cuba farm country.  "Four on the floor" traction, great mileage!  I traveled to nine Cuban cities in March visiting churches, pastors and leaders in sometimes mysterious places. And the Gospel has reached the countryside in a very powerful way!
We're a Team!
So far this year we have ministered in Bolivia, Ecuador, Colombia, Cuba, El Salvador and Panama.  Your prayers, support and special offerings have helped us reach thousands with a Message of Hope.
We love you for it!